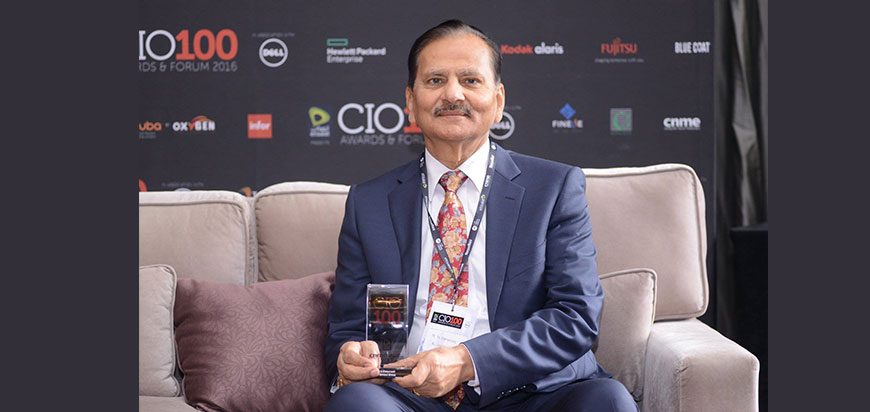 Al Shirawi Group wins prestigious CIO Award for IT Excellence
Dubai, United Arab Emirates, February 4, 2016: Madhukar Nath Chaturvedi, IT Director of Oasis investment Company LLC, the holding company of the Al Shirawi Group of Companies, received the prestigious CIO Award, at CNME's second annual CIO Awards and Forum event, held in Dubai. The annual awards ceremony honors the top 100 C-level IT talent in the region and recognizes the innovative ways that IT delivers competitive advantage or accelerates business success.
Chaturvedi was among 100 other CIOs and Senior IT Executives at the Dubai edition of this global CIO Awards programme. The 2016 award marks the third CIO award win for the Al Shirawi Group. The IT Department of Al Shirawi has helped the Group thrive in a digital economy, helped serve customers and employees more efficiently and has also created business value through innovative use of technology.
Oasis Investment Company is certified for ISO 9000 practices and ISO 27001 practices for IT security services. The IT Department comprises 45 expert IT consultants in Dubai and 25 IT technical resources in India – the offshore center of Oasis Investment Company for IT services, a CMMI Level 3-certified software services delivery company.
Previously, Oasis Investment Company has been recognized as 'Best Role Model' for Oracle ERP's most diversified footprint software implementations in the Middle East and has been honored with the 'Oracle Business Implementation of the Year Award.' It is also the first in the Middle East to use Fusion Oracle ERP solutions under Oracle's 'Early Adaptor Program.'
About Al Shirawi:
The Al Shirawi Group of Companies, operating under the legal name of Oasis Investment Company, is a UAE-headquartered conglomerate with operations across the GCC region. The Group consists of 34 companies operating across nine business areas: Printing & Packaging, Oil & Gas, Logistics, Heavy Equipment, Manufacturing, Electronics, Engineering Services, Trading and Online Media & Publishing. Founded in 1971, the Group today employs over 10,000 employees. Please visit Alshirawi Group for more information.