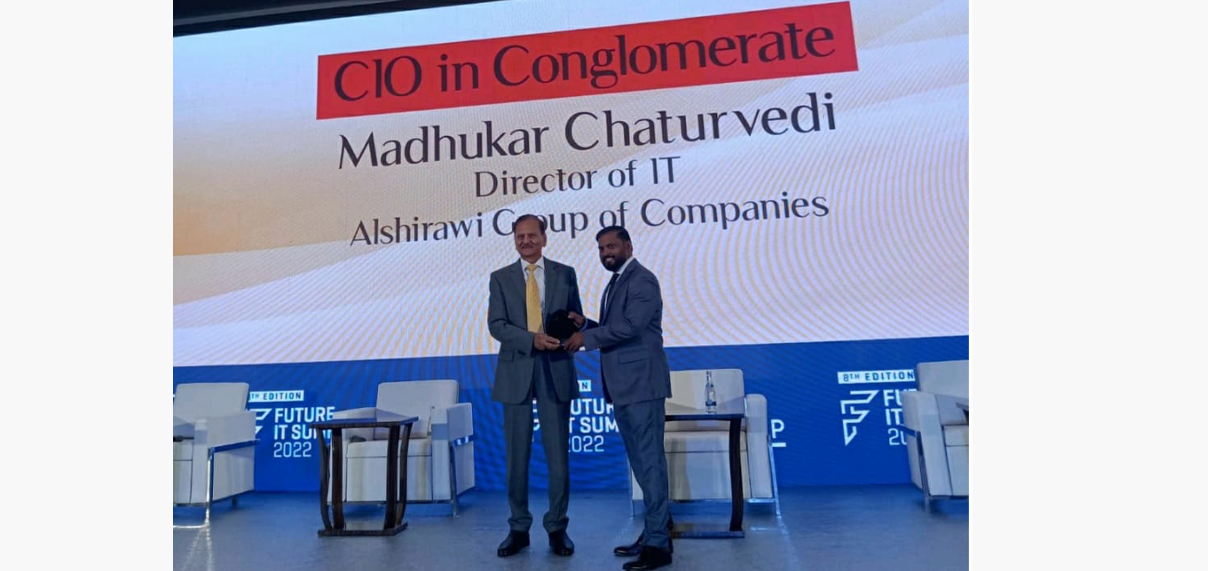 Global Cio Forum Announces Winners of Catalyst Awards 2021
On March 22, the seventh edition of Future IT Summit and Catalyst Awards 2021 were hosted in association with SRTIP, Sharjah Research Technology and Innovation Park. The event was graced by CIOs and IT leaders from Middle East, Africa, SEA, Europe, and US markets.
FITS MEA 2021 was not just about knowledge-sharing and networking but also about recognising each individual's efforts through Catalysts Awards 2021. The awards honoured trailblazers and trendsetters of the industry through two categories, Catalyst Marketing and Catalyst CIO.
---
Catalyst CIO Awards 2021
| Categories Of Nomination | Name | Organisation |
| --- | --- | --- |
| Catalyst Government Leader | HE Hussain Al Mahmoudi | SRTIP |
| Government CIO | HE Noor Al Noman | Government of Sharjah – Department of eGovernment |
| Government CIO | Dr Kadeeja Mansoor | SLC – Govt of Sharjah |
| Government CIO | Yousef Abdullah Al Ali | Sharjah Directorate of Town Planning and Survey |
| CIO in Government – Utilities | Anshul Srivastav | Emirates Post |
| Government CIO | Abdalla Al Ali | Dubai Multi Commodities Centre, DMCC |
| Government CIO | Khalfan Matar Al Hassani | Monitoring And Control Centre |
| Government CIO | Sunando Chaudhuri | Abu Dhabi National Exhibition Company |
| Government CIO | Nasser Al Owghani | Mohammed Bin Rashid Housing Est |
| CIO in Banking and Finance | Dr Erdal Ozkaya | Standard Chartered Bank |
| CIO in Banking and Finance | Abdul Rahman Jaroudi | Aafaq Islamic Finance |
| CIO in Banking and Finance | Mamoun AlHomssey | Abu Dhabi Islamic Bank |
| CIO in Conglomerate | Manish Bindra | Galadari Brothers Group |
| CIO in Conglomerate | Madhukar Chaturvedi | Al Shirawi Group |
| CIO in Conglomerate | Shrenik Jain | Siemens |
| CIO in Education | Nithin Geo Thomas | Amity Education Middle East |
| CIO in Education | Shah E Room Khan | Emirates College of Technology -Abu Dhabi |
| CIO in Healthcare | Aliasgar Bohari | Zulekha Hospital |
| CIO in Healthcare | Mustansir Aziz | Gulf Diagnostic Centre Hospital |
| CIO in Hospitality | Roger Tabbal | Accor Hotels |
| CIO in Hospitality | Krishan Kant Srivastava | Landmark Group (Hospitality Division) |
| CIO in Hospitality | Atul Aggarwal | Caesars Bluewaters Dubai |
| CIO in Hospitality | Haitham Natour | IHG Group |
| CIO in Hospitality | Ashraf Salah | Hilton Group |
| CIO in Entertainment | Anindo Banerjee | Dubai Holding Entertainment |
| CIO in Facility and Management | Robert P Araniego | Emrill |
| CIO in FMCG | Santosh Shetty | Ghassan Aboud Group |
| CIO in FMCG | Shailesh Mani | Flemingo International |
| CIO in Legal and Judicial Affairs | Arul Jose Vigin | DIFC Courts |
| CIO in Logistics | Vinay Sharma | Gulftainer |
| CIO in Manufacturing | Samit Jha | Laticrete International |
| CIO in Manufacturing | Umesh Moolchandani | Bin Dasmal Group |
| CIO in Manufacturing | Venkatesh Mahadevan | Dubai Investments |
| CIO in Manufacturing | Azeemuddin Mohammed | Al Rawabi Dairy |
| CIO in Oil and Gas | Dr Alaeddin Ismail Al-Badawna | ADNOC Refining |
| CIO in Oil and Gas | Hala Banihashim | Sharjah National Oil Corporation |
| CIO in Real Estate and Construction | Ajay Rathi | Damac Properties |
| CIO in Retail | Fayaz Ahamed Badubhai | Al Yousuf Group |
| CIO in Services | Mathew Sheath | Majid Al Futtaim Ventures |
| CIO in Transportation | Elfassi Yassim | TriStar Group |
| IT Person of the Year | Mohammed Al Nuaimi | Federal Authority of Identity and Citizenship |
---
Catalyst Marketing Awards 2021
| Categories Of Nomination | Name | Organisation |
| --- | --- | --- |
| Catalyst Vendor | Ankush Mehra | Zebra Technologies |
| Catalyst Vendor | Hassan Hamadani | Pure Storage |
| Catalyst Vendor | Lalit Popli | Arcon |
| Catalyst Vendor | Ashok Kumar | TalariaX Pte Ltd |
| Catalyst Vendor | Faraz Ali Khan | ASBIS Middle East |
| Catalyst Vendor | Irmak Parlat Yilmaz | GULF BUSINESS MACHINES |
| Catalyst Vendor | Rasha Islim | Emitac Enterprise Solutions |
| Catalyst Vendor | Nathalie Nassar | Mindware |
| Catalyst Vendor | Sonali Basu Roy | Bulwark Technologies |
| Catalyst Vendor | Rohan Daniel Nair | AHAD Information Technology LLC |
| Catalyst Marketer of the Year – Vendor | Ben McDonald | Dell Technologies |
| Catalyst Marketer of the Year – Vendor | Aditya Puri | Redington |
---
Happy companies create happy employees and FITS MEA 2021 honoured this practice through Top 10 Happy IT Companies To Work For award. The winners list is below:
StorIT Distribution
ASBIS Middle East
Emitac
Barco
Gulf Business Machines
Spectrum Networks
Arcon TechSolutions
Mindware
RNS Technology Services
GAVS Technologies