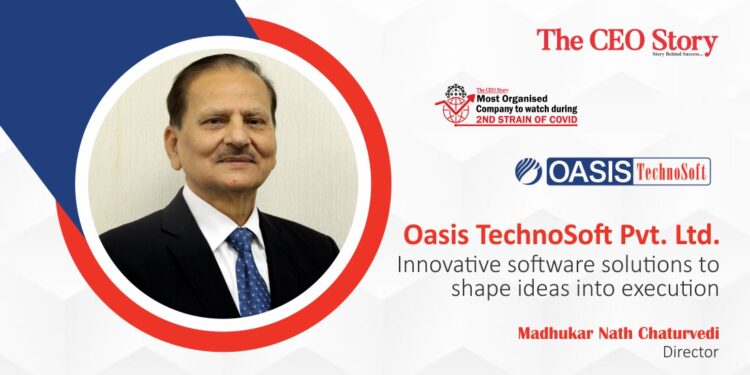 Innovative Software Solutions To Shape Ideas Into Execution
Imagining a constant optimization in business, in an era full of transgressions is quite difficult without flexible software solutions. With the world still battling against COVID and technology becoming the means to grow and communicate, Software solutions have become a significant advantage to businesses, especially for reduction of cost of operations. Innovative solutions, like ERP, RPA, Artificial Intelligence etc. have streamlined the entire business model from conception to production and delivery.
Widespread inclusion of AI, ML, IoT are constantly pushing business leaders to stay abreast of the innovation curve. Such innovations assists a Company become more cost-efficient while keeping the bar high eventually giving it an upper hand in the competition. In a broader sense, helps a Company strategize growth, research and analyze changes and challenges and design favorable products that fosters its ultimate vision.
Oasis TechnoSoft Pvt. Ltd. is a one-stop shop for all kinds of propelling software solutions. Backed with flexible technology, expertise and end-to-end support, the Company is suited to optimize businesses at any level. With pandemic still rising, the Company is providing a robust assistance to a global client base – helping them progress and penetrate the competitive market.
A BRIEF NOTE
Oasis is a celebrated technology aggregator providing innovative Software solutions to multiple technology verticals. Its solutions are accredited with SEI CMMI level 3 and ISO 9001:2015 Certifications and helps businesses achieve their objectives, giving them a competitive edge. In other words, everything a business needs to adapt to the transitions and disruptions in this era. Oasis took its inception in 2008, and has been setting benchmarks under the stewardship of Madhukar Nath Chaturvedi (Director).
The Company has an eminent client base in the Middle East in verticals such as Printing and Packaging, Oil & Gas, Logistics, Heavy Equipment, Manufacturing, Electronics, Engineering Services, Trading and Transport. Along with star-level technology, its offerings are affordable and guarantee a streamlined process and profit to shareholders. Focusing on innovation and automation creates repetitive business opportunities, and a fast and agile operating model that multiplies client profit.
BUILDING VALUABLE SOLUTIONS
With transitions becoming a common phenomenon, R&D has become a key driver in every segment. The stakes are immense, and digital augmentations have resulted in fierce competition. To keep things moving, Oasis focuses on two crucial areas: understanding consumer needs and designing bespoke offerings to meet them./p>
Its constant lookout for best and appropriate solution helps it adapt to emerging innovations, build a more flexible business model and lay down new pathways for interaction with customers. "R&D on emerging technologies helps us stay abreast of the innovation curve and keeps us committed to client success", asserts Mr Madhukar. The Company builds partnership with its clients to have a clear understanding of their business – areas of improvement and challenges.
Throughout the last 14 years, Oasis has grown into a trusted name in the global market. In order to keep up with trends and technology, it has developed a favourable portfolio that includes Enterprise Resource Planning Systems, Oracle Business Intelligence (OBI), Qlik Sense Data Analytics Platform, RPA (Robotic process automation), and Web Application Development (PHP and Net). In-depth R&D also helps asis deal with criticism. Every customer feedback passes through an evaluation process to understand its nature (constructive or destructive); and how to implement it to improve the overall quality.
QUALITY AND A LEARNING CURVE
Along with R&D, Oasis invests in a learning curve to ensure its flexibility and quality in solutions. Aiming to be the epitome of quality, it pushes its team to join tech forums, subscribes to newsletters, attends Seminars and webinars and works on self-research projects based on market trends for potential incorporation. The Company has a separate budget for employees willing to participate in innovative and skill development programs. Also, employees are – closely monitored to measure the effort incurred in learning quantitatively.
"We ask employees to note their learning effort into a timesheet, for deep analysis by the management and suggest improvements where required", explains Mr Madhukar. Alongside the learning culture, the quality team advocates constructive feedback in operations. The Company performs timely surveys on customer demands to understand their changing needs and how it boosts productivity. Furthermore, Project Managers and Quality Heads maintain an open line of communication with customers, understanding their concerns and how to make end-users' lives easier in their day-to-day operations.
A CULTURE OF SHARE VISION
"Culture is simply a shared way of doing something with a passion".
Oasis's vision and mission to provide robust and automated solutions is handheld by a team of accomplished professionals. Its culture resonates with enthusiasm, teamwork, practicality and responsiveness. And these core values are assured in every resource during hiring. The team brings diverse experience to the table, which helps them with decision making, problem-solving while ensuring a systematic way of work.
In turn, Oasis hands them a supportive work culture that encourages success. Everyone savours self-esteem and dignity, which brings out their creativity. A transparent communication channel further enables employees – to freely exchange ideas and suggestions.
The cohesive environment fosters faith that the Company is there for each member – in both happy and terrible times. Employees are made aware of the mission, vision, values, and goals in order to ensure high morale. The management monitors individual efforts and provides feedback, be it a job done well or needs improvement. The feedback process has a sustainable impact on overall productivity. Above all, Oasis believes in people development and keeps the team involved so that they feel connected at all times.
UNBRIDLED TO PANDEMIC
The burden of COVID-19 is still creating worldwide distress affecting individuals and businesses and alike. While companies have taken the digital approach to sustain, a skilled workforce is still the premier asset. The situation requires companies to uphold their motivation while being in isolation. Upon that understanding, Oasis keeps its employees energized even when they are working from home.
And suggests every organisation battling the pandemic to pay attention to employee satisfaction. Its management has mapped a flexible framework that allows the team to work from home without hampering delivery schedules. Leveraging on a certified business model tools and techniques help in identifying opportunities along with emerging risks.
Moreover, digital apps, like (Zoom, Google Meet, and Microsoft Team) helps in maintaining connection with clients and employees. These tech models integratedwith talented hands and quick responsive management directives helped Oasis manage work-life balance during this pandemic.
ACCOMPLISHMENTS THAT ILLUSTRATES EXCELLENCE
With a commitment to meeting the needs of its customers, Oasis has assisted more than 45 companies in the Middle East in turning around their growth. In recognition of its consistency, it was appraised with maturity Level 3 on the Capability Maturity Model Integration (CMMI) SVC, V 1.3 based on a Standard CMMI Based Appraisal Method for Process Improvement.
Its relentless efforts to create a product customized and applicable to statutory and regulatory requirements rewarded it with ISO 9001:2015 standard certificate. Oasis also stands proud for implementing a VAT project in Dubai with utmost sincerity, commitment, and dedication within the specified deadlines.
Oasis's learning curve and open collaboration with clients and employees distinguish it in the global market. Oasis has extensive expertise in 11 verticals with proven execution of 40+ Global projects and ranked #1 Offshore Service Provider in the Middle East. With the pandemic blazing over the world, the Company's learning culture and unified business strategy gives it a substantial advantage.
THE BIG PICTURE
Oasis is qualified to excel business for customers who wish to have exemplary applications and software services and build long-term relations. Backed with unwavering trust and commitment, Oasis has set sight on innovative technologies and skilled resources to devise more productive yet cost-effective software solutions.
Inclining itself with the innovation curve, the Company is proceeding for automation infused in ERP and aims to establish a niche domain as 'Automation Anywhere'. "Our current portfolio of Oracle ERP remains at the helm for future too", claims Mr Madhukar Nath Chaturvedi.